Syrup to Boost Immune System
Details
Active - expires on March 04, 2023
Description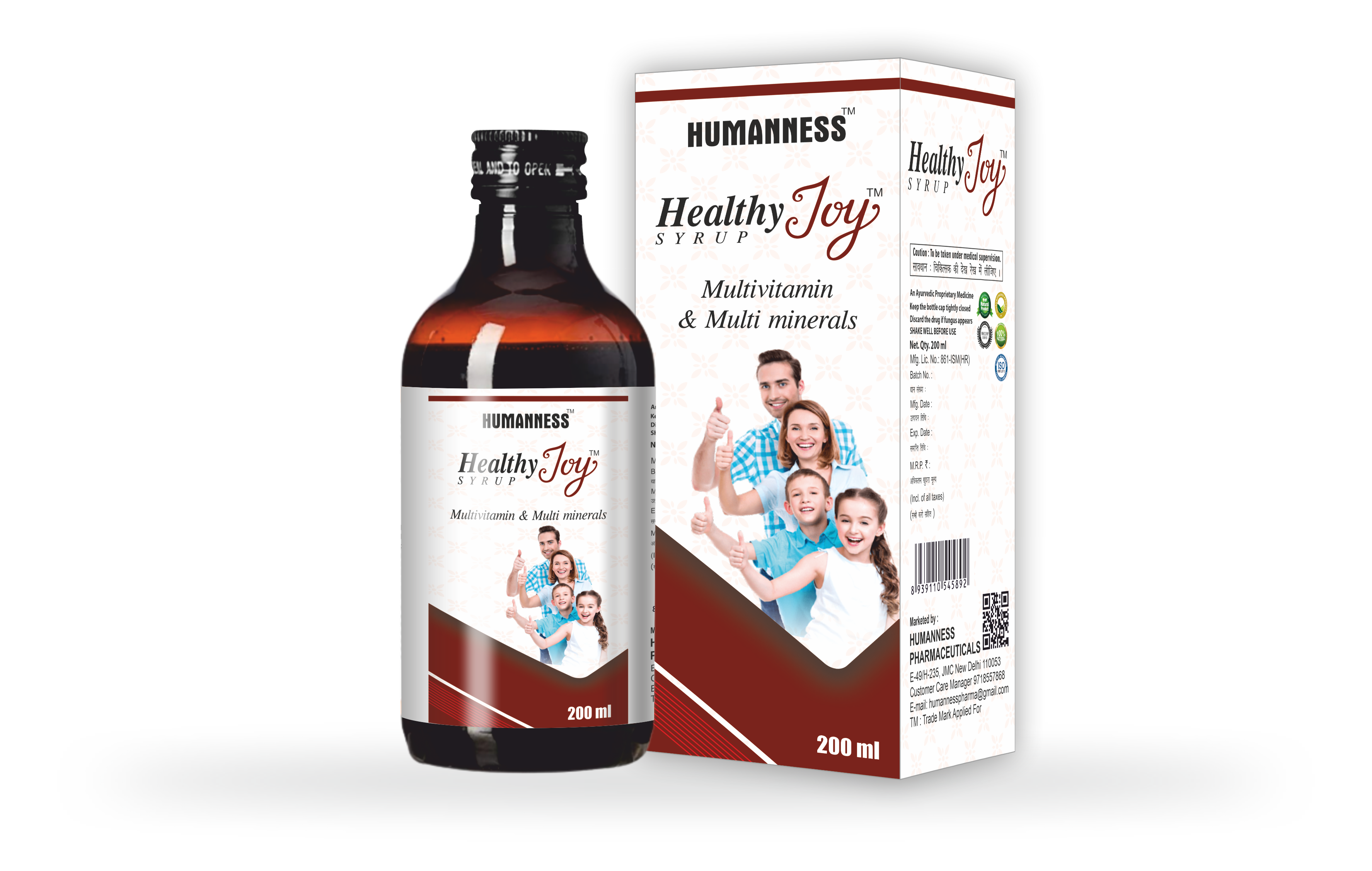 Healthy joy syrup is an Ayurvedic medicine that contains herbs essential for improving the Syrup to Boost Immune System, digestion and overall growth. It is abundant in vitamin C and enhances immunity & appetite .HEALTHY JOY Syrup supports cleansing / detoxification of body, healthy digestion & immunity. It rejuvenates the body and provides strength and stamina.
Composition : Each 10 ml Contain Extracts of :- Pueraria tuberosa (Vidarikanda) Tr. 200mg, Asparagus racemosus (Shatavari) Tr. 200mg, Sida cordifolia (Bala) Wh.Pl. 200mg, Phoenix sylvestris (Kharjura) Fr. 200mg, Withania somnifera (Ashwagandha) Rt. 200mg, Asparagus adscendens (Safed Musli) Rt. 200mg, Terminalia belerica (Bahera) Fr. 160mg, Terminalia chebula (Harad) Fr.160mg, Emblica officinalis (Amla) Fr.160mg, Vitis vinifera (Draksa) Fr.100mg, Zingiber officinale (Sonth) Rz.100mg, Piper longum (Pippali) Dr.Fr.100mg, Piper nigrum (Kalimirch) Dr.Fr.100mg, Shudh Shilajeet Exd. 100mg, Tribulus terrestris (Goksura) Fr. 50mg
Indication: General weakness, Lack of appetite, Antioxidant)
Syrup is specially formulated for general weakness, gaining strength, and boost immunity.
This formulation helps in loss of appetite, being a very good digestive stimulant.
Benefits of Healthy Joy Syrup
Vidarikanda (Pueraria tuberose) Tuber- The antioxidant property of Vidarikanda removes free radicals from our body and improves oxygen exchange in the kidney cells. It provides the strength & rejuvenates the body due to its Balya & Rasayana Properties. The host of bio-chemical components in Vidarikanda includes- β- sitosterol, stigma sterol, tuberosin, puerarin, coumestan tuberostan & isoflavone-puerarone etc. Enriched with these bio active components and host of qualities like immuno-protective, rejuvenative, cardio-tonic, diuretic, detoxifying, skin conditions, digestive, anti-inflammatory, pain-relieving, anti-microbial properties etc.
Ashwagandha (Withania somnifera) Root-may improve the individual's ability to deal with stress. It reduces the level of cortisol and helps to reduce stress and stress-related problems.
Safed Musli & Shatavari-is considered as important medicinal herbs. It is known as a rejuvenator, a vitalizer and a health tonic. Polysaccharides in Safed Musli stimulate the activity of natural killer cells in the body due to its immunostimulating properties.
Shatavari reduces weakness and keep maintain Health due to Rasayana (Rejuvenate) property. It helps to improve weight, relieves pain and enhances memory by improving brain functions due to its Balya (strength provider), Vednasthapana (pain reliever) and Medhya (brain tonic) properties.
Khajura (Phoenix Sylvestris) Fruit- are rich in carbohydrates, proteins, dietary fibre, vitamin B, minerals and antioxidants. They contain various phytochemicals that may protect against many diseases such General weakness, Lack of appetite, as diabetes, cardiovascular disease etc.
Bala which means "strength" is a popular herb in Ayurveda. Bala helps to reduce the symptoms of fatigue due to its Balya (strength provider) and Tridosha balancing nature.
Triphala "Harad, Baheda and Amla"-helps to remove Ama due to its Deepan (appetizer) and Pachan (Absorption) properties. Triphala removes waste material from the intestine due to its Rechana (mild laxative) property. Rich source of antioxidants such as vitamin C which helps in building immunity
Draksha (Vitis vinifera) Fruit-helps in gaining weight because of its Balya (strength provider) property.
Shilajit (Asphalatum) Exudate-is used as a revitalizer to enhance physical performance and relieve fatigue. This is due to the presence of Fulvic and Humic acid which helps the mitochondria present in the cells to produce energy. Fulvic acid present in Shilajit has an antioxidant property which destroys free radicals in the body and prevents cell damage. Shilajit helps protect the skin from premature aging by reducing fine lines and wrinkles.
Gokshura (Tribulus terrestris)-helps improve digestion and gives relief from intestinal gas due to its Deepan (appetizer) property which helps to digest food easily and prevent gas formation in the intestine.
INDICATION
Multivitamin Syrup.
COMPOSITION
Each 5ml contains:
· Vidarikanda (Pueraria tuberosa) 200 mg
· Goksura (Tribulus terrestris) 50 mg
· Draksa (Vitis vinifera) 100 mg
· Aswagandha (Withania somnifera) 200 mg
· Amla (Emblica officinalis) 150 mg
· Bahera (Terminalia belerica) 150 mg
· Harad (Terminalia chebula) 150 mg
· Safed musli (Asparagus adscendens) 200 mg
· Shatavari (Asparagus racemosus) 200 mg
· Sudh silajeet 100 mg
· Bala (Sida cordifolia) 200 mg
· Kharjura (Phoenix sylvestris) 200 mg
· Sonth (Zingiber officinale) 100 mg
· Pipali (Piper longum) 100 mg
· Kali mirch (Piper nigrum) 100 mg
DOSAGE
5 to 10ml twice daily or as directed by physician.
SIDE EFFECT
As if now, no adverse effect reported/observed of this Composition.
Contact Information
Address: Delhi-53
Email I'd: customercare@humannesspharma.in
Contact No: 9718557868
Website: https://humannesspharma.in/
Contact Information
Disclaimer
The content of this advertisement was posted by the advertiser, humannesspharma. Pilipinoy.com is in no way responsible for its content or for any claims made by the advertiser.